I want to raise a glass of bubbly and say....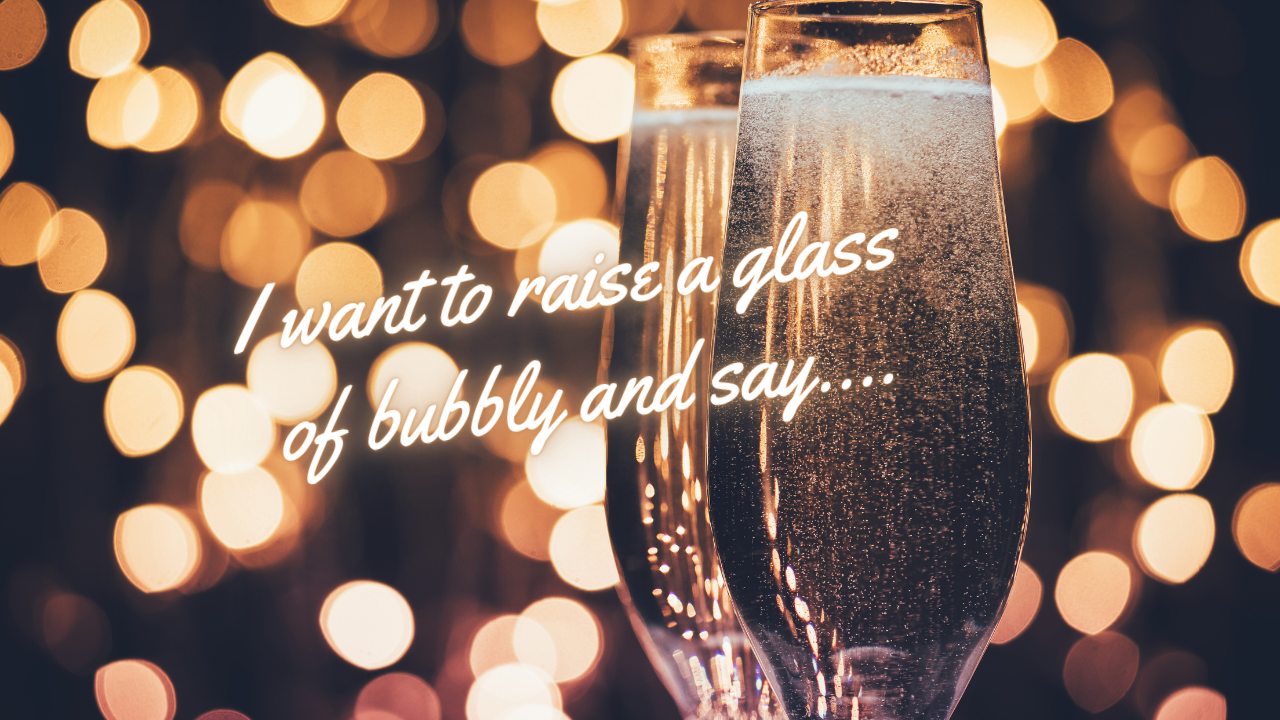 I'm sitting at my desk near a blazing wood fire. Outside, the twinkling lights in the garden are softly echoed in the snow. It all feels magical, so I'm revelling in the peace and quiet as I shift gears to spend a few days with my friends & loved ones.
I'm also remembering the year that's almost over. Many of those I spoke with in 2022 found the year humbling, even sobering. For some, it was painful, and others told me it was uplifting, almost confirming. Where were you in that range?
I found 2022 a lot of work - creative work. I had a project that kept me hopping and shopping so I definitely experienced the year as more uplifting.
In my DrJonni work, I saw a lot of people apply their creativity to projects, dreams, and creations of all kinds. They looked at the world and its changing ways and knew they had to find their place in it. I'm deeply honoured to have helped so many find their voice and purpose.
Everyone has been affected by the changing world. And many felt the call to look deeper into the truth of their lives and the world they live in. I helped them see what was behind their anger, judgment, & fear, so they could understand the truth of it.
It's become harder and harder to be apathetic, to sit on a mountaintop and ignore the world and its intended evolution.
The times are asking everyone to be present, awake, resilient and flexible, to live today as it presents itself because the uncertainty continues. That's the evolutionary process. You can't live in a future that's set, linearly driven, planned, and executed. There's no growth in that.
Yes, growth is often messy and uncomfortable. And either too fast or too slow. But it's happening. Like it or not. Embrace it or not.
That's why I felt the tap on my shoulder this year to create more courses for those who want support & guidance in these rapidly changing times, so they can find their stability, equilibrium, and heck ya, even joy.
I started offering courses in September and plan on continuing throughout 2023. And because they're text-based, I bring them to you. I'll tell you more about them in future emails.
For now, I want to raise a glass of bubbly and say, here's to you and the season. Give in to the desire for some rest and quiet contemplation, for some friendly faces and laughter, and for some deep appreciation of life itself.
As I said on social the other day, if you want to know whether your mission on earth is finished - if you're here, it's not. If you're still alive, it isn't. You have more to do. Deeper life awakenings to have. More integrations of your soulful self with your human self.
These are not easy times we live in, however, they're ripe for change times. And after 30+ years of private practice, I still find myself passionate about leading the change we're all being called to make by the planet and the entire universe. I know that when you answer that call, all of humanity elevates like never before.
For 2023, consider joining me in one or more of the text-based courses I'm creating and offering. It's how I answer my call to serve humanity. To help you handle the truth, the whole truth.
I hope this Christmas season and the new year bring you meaningful moments and connection, rest and relaxation, and some warm and magical moments too. Feel the slow pause as the world seems to stop for a while. Give yourself permission to be still and bring meaning into your life this Christmas and beyond.
Thank you so much for journeying with me this year. I see you.
Merry Everything,
Love, Jonni
There are no coincidences.
Did someone you trust recommend me? Did you google-search 'spiritual psychologist'? Did you follow an internet link or find me on Instagram? If you want me in your inbox, providing context & support for the disruptions, confusions, & stuckness that may be happening in your life, I'm there.
Yes, please